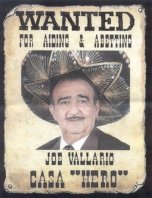 While the debate over federal immigration reform has been on hold, anti-immigrant activists continue to push for legislation on the state and local levels. At a recent hearing of the Maryland state House Judiciary Committee regarding several bills seeking to crack down on undocumented immigrants, one activist found her testimony that day cut short after she tried to distribute fliers to the committee depicting the chairman in a gaudy sombrero under the phrase "Wanted for Aiding & Abetting."
The activist, Susan Payne, announced herself as the executive director of the new Maryland Coalition for Immigration Reform, but we remember her as the co-founder of Citizens Above Party, which had at least one other member. Last year, Payne was testifying to the state legislature over REAL ID, warning that her hometown of Gaithersburg—a wealthy suburb of D.C. best known for its New Urbanist planned villages—was "becoming the first authentic barrio in the county." Payne is one of a few anti-immigrant activists in the state who seem to be quoted in the media again and again.
But Payne doesn't seem to have trouble finding allies among legislators: Del. Warren Miller is calling on his colleague Joe Vallario, the committee chairman depicted in the sombrero, to resign for interrupting Payne. "I would suggest he move to another country and run for office there," said Miller.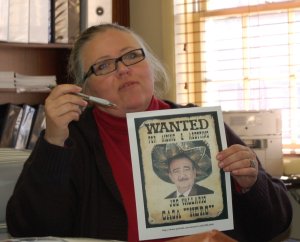 (Susan Payne with flier. Photo from Maryland Thursday Meeting.)