Last year, leading right-wing groups and Fox News Channel hosts created an impressive campaign to warn the American public of a "secret plan" on the part of liberals to "ban" Christmas and destroy Christianity itself. They called it the "War on Christmas" – a battle they compared to the Nazi war in Europe – and it was even taken up by Congress and incorporated into the effort to confirm Samuel Alito to the Supreme Court.
Although it is currently 90 degrees in Washington on this day in August, we now present the first salvo in the 2006 "War on Christmas." The American Family Association, which last year attempted to organize boycotts of Target and other retailers that were heard muttering "Happy Holidays" to their customers (rather than "Merry Christmas"), has been monitoring the "Holiday" situation in a Sam's Club catalog for almost two months:
Even though it is August, the Christmas advertising season has already begun and Sam's Club has come down on the side of "Holidays" instead of "Christmas."

In the August/September issue of their in-house magazine Source, Sam's Club has one page dedicated to Christmas. But Sam's Club doesn't refer to Christmas as being Christmas. Sam's Club promotes it as "Holidays."

On page 69 of Source, the promotional plug says: "Coming soon. Plan ahead for the holidays." On the page decorated in Christmas fashion are three products. Sam's Club wants you to buy "Holiday Cards," "Holiday Ribbon," and "Holiday Gift Bags."

On the "Christmas" page, the word Christmas isn't used! View the page ad.

On June 26, AFA wrote Wal-Mart (which owns Sam's Club) asking that they not ban "Christmas" in advertising and promotions. Included in that letter was a CD with the names of 201,595 individuals who signed the petition asking for no ban. Wal-Mart, ignoring the letter, did not even bother to respond.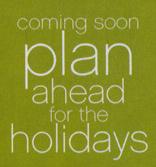 Wal-Mart's alleged attack on Christianity, from the August/September issue of Source, the exclusive periodical for Sam's Club members.