Already, the Election Protection Coalition is reporting that voters are facing obstacles, from widespread problems with electronic voting machines to officials unlawfully demanding ID.
This sign outside a polling place in Henry County, Georgia tells voters they need an ID to vote – but a state court struck down Georgia's photo ID law, and most voters do not need to show an ID of any kind.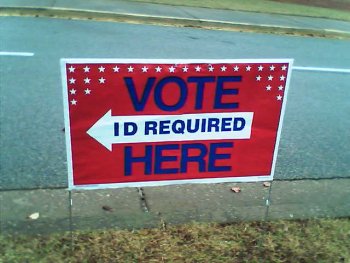 Check EP365.org throughout the day for updates from across the country. If you face problems voting, call the Election Protection hotline, 1-866-OUR-VOTE.
CORRECTION: A state court has prevented Georgia from enforcing a law passed by the state legislature that would require citizens to show photo ID in order to vote. However, Georgians still must show some form of ID with both their name and address at the polls. While that is better than requiring photo ID, it still runs a great risk of preventing some eligible voters from voting.