"Barbra loves Hillary, Oprah loves Obama," led a news article in Monday 's Washington Times. "But does America care? Splashy celebrity endorsements may backfire on White House hopefuls as they face canny voters weary of Hollywood hubbub." Reporter Jennifer Harper may or may not have a point about the effectiveness of celebrity endorsements, but the right-wing newspaper neglected to mention the candidate who has made his collection of washed-up superstars the cornerstone of his endorsement strategy: Mike Huckabee.
We've already mentioned Huckabee campaigning with 1980s pro wrestler Ric Flair; to "Nature Boy" we can add "Motor City Madman" Ted Nugent and, of course, Chuck Norris. In fact, Huckabee's first television ad featured the candidate sitting down with Norris in the actor's living room. If it's a joke, Huckabee is stretching it to the limit: He's deployed Norris at press conferences and campaign stops, and made the kooky martial artist his media point-man after the last presidential debate. According to Newsweek, Norris and his wife are part of Huckabee's "inner circle."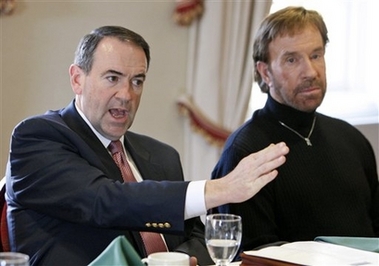 Huckabee's dalliance with stars of a bygone (and not exactly wholesome) era may seem like a humorous quirk, but in a way, it serves a significant purpose: The fawning press coverage of Huckabee's ironic endorsements means less coverage of Huckabee's serious endorsements: far-right activists like American Family Association founder Don Wildmon, Rick Scarborough, Mat Staver, the LaHayes, Jerry Falwell, Jr., and so on.
As we noted earlier this week, Huckabee is campaigning more privately with these extreme activists in Iowa, and Scarborough's "Patriot Pastors" machine is ramping up in Iowa, with the help of Christian Coalition and Redeem the Vote organizer Randy Brinson. And by the way, where did Brinson get his mailing list of "about 71 million contacts"—"one of the most coveted lists in Republican politics"? We're back to entertainment, reports the Washington Post:
In February 2004, Brinson, who has worked on and off in politics for much of his life, was at a gathering of national religious broadcasters when he ran into a group of people doing the early marketing efforts for [Mel] Gibson's film "The Passion of the Christ."

It was a match made in, well, heaven. Brinson had been noodling with ideas about how to build a list to reach the Christian community for the better part of a year and had even formed Redeem the Vote, a voter registration organization. The marketers coveted his know-how, and an alliance was born.

By piggybacking onto pitches made for the movie, Brinson was able to collect 12 million addresses in short order. But it wasn't until Jim Caviezel, the actor who played Jesus in the film, taped a pitch for Redeem the Vote that the list really took off. Caviezel's video was e-mailed to more than 60 million people, Brinson said, and started a chain of events that eventually turned the list into a behemoth.

Huckabee got involved with Redeem the Vote on the ground floor, agreeing to serve as the chairman of the organization's national advisory committee in 2004. After the 2004 presidential election, Brinson went to each of the presidential campaigns, Republicans and Democrats, to pitch his list. Huckabee bit, hiring Webcasting TV — a for-profit manager of the list — as a consultant to his campaign. (Redeem the Vote is a not-for-profit group and, as such, does no political work.)

In Iowa alone, Brinson's list has produced 414,000 contacts for the Huckabee campaign, a stunning number given that less than one-quarter of that total is expected to vote in January's Republican caucuses.
(AP Photo/Charles Dharapak)