Religious-right leaders are flocking to defend a mayor whose anti-gay comments have drawn public criticism.
Last month, Ft. Lauderdale, Florida Mayor Jim Naugle proposed replacing the bathrooms at the city's beaches with $250,000 self-cleaning robo-toilets to combat the purportedly rampant problem of gay men using public restrooms for sexual encounters. In discussing his plan, he commented:
"I don't use the word 'gay,' I use the word 'homosexual.' Most of them aren't gay. They're unhappy."
After a public uproar, Naugle then scheduled a press conference to offer an"apology" for his comments. But the "apology" he offered was for not being aware sooner that sex in public bathrooms was such a problem. The major flaw with this apology, in addition to the obvious bait-and-switch which infuriated local gay-rights activists, is that a Fort Lauderdale police spokesman has characterized the supposed problem as "non-existent."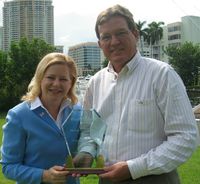 Nevertheless, adulation from the religious right has been forthcoming, with Rick Scarborough calling Mayor Naugle "bold," and Concerned Women for America labeling him "gutsy." Faith2Action's Janet Folger even presented Naugle with her weekly "Protector of the Family" award for his efforts. A collection of extremely anti-gay religious-right groups including Americans for Truth, Concerned Women for America, Coral Ridge Ministries, and Faith2Action have even formed their own website, www.healthypublicplaces.com.  Although to date it's nothing more than a link to a press release, the site is further evidence that religious-right leaders are willing to circle the wagons around any politician who spouts anti-gay rhetoric.  
(Photo: Janet Folger presents Naugle with the "Protector of the Family" award.)