This summer, we noted that the Minuteman Civil Defense Corps' project to build their own fence along with U.S.-Mexico border was falling short of promises, while contributors raised questions about where all the money went. One major donor sued the anti-immigrant vigilante group, and a number of the group's officials and state coordinators challenged MCDC leader Chris Simcox's financial management, only to have Simcox fire them all.
Now CNN has picked up the story, sending a reporter down to look for the much-vaunted high-tech "Israeli-style" fence, and finding little more than a cattle guard on one ranch and a short stretch of mesh wire on another.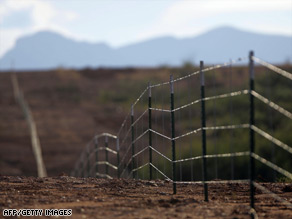 The Minutemen quickly responded to the negative press—with a fundraising e-mail:
It's not news that the Minutemen have critics and are under constant assault from the liberal media and open border alliance organizations. But in spite of all this, the Minutemen press on! Giving leadership and hope to America since our patriots sounded the first national call in 2005 to Secure Our Borders NOW, our committed and courageous Minuteman Civil Defense Corps volunteers are showing that good people CAN make a difference in the defense of our nation's security, sovereignty, safety and prosperity.
According to the MCDC, the vigilante group is only trying to do a job the "feckless federal government" won't do, but its complaint sounds more like the criticism of its own fence:
[The government] is long on talk and short on performance, selling the American people short as it has for decades. The Feds are stalling, wasting time, putting up inferior fencing at vast expense on delayed timelines—all in the hopes that the people of this country will be won over by their political grandstanding and public relations.