Kansas Republicans have selected Kris Kobach, a law professor and anti-immigrant activist allied with the Religious Right, to be their state party chairman, widening the gap between GOP moderates and the Right that has already led some to leave the party and run as Democrats, including the current lieutenant governor and attorney general.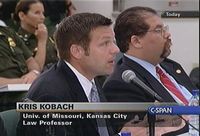 Kobach first made headlines shortly after September 11, 2001, when he played a leading role defining immigration policy under Attorney General John Ashcroft; Kobach was instrumental in implementing a mass registration and questioning of "enemy aliens" (as the World War II-era law put it) – predominantly legal immigrants and visitors from Muslim countries. He moved back to the Kansas City suburbs in 2003 to run for Congress, while at the same time launching lawsuits in Kansas and California against laws granting in-state college tuition to undocumented immigrants who live in the state, attended U.S. high schools, and are pursuing citizenship.
During his unsuccessful congressional campaign, he came under fire from his own party for extreme rhetoric during the GOP primary, and was criticized for special appearances as a "constitutional expert" in churches in the midst of campaigning, such as at several "pastors' policy briefings" with Jerry Falwell in the weeks leading up to the general election.
Since then, Kobach has continued his campaign against in-state college tuition for immigrants and against the federal DREAM Act. He also took part in a handful of immigration hearings last year held by House Republicans who were pushing their draconian enforcement bill. Most recently, he joined the legal defense of local anti-immigrant ordinances in Hazleton, Pennsylvania and Valley Park, Missouri.