While Tom Tancredo continues his efforts to push the Republican presidential race further and further towards anti-immigrant extremism, it's important to remember that the candidates who are following his lead are the ones with a chance of winning the party's nomination. Rudy Giuliani is attacking Mitt Romney over his landscapers, and Romney is running an ad in Iowa attacking Huckabee over past support of education programs for undocumented immigrants.
Not to be outdone, Huckabee apparently borrowed his immigration platform from an anti-immigrant group, the Center for Immigration Studies. And this week he announced a surprising endorsement: Jim Gilchrist, co-founder of the Minutemen border vigilante movement. Lest anyone forget that Huckabee is the far-right candidate who's "not angry about it," the former governor said at the press conference, "I'm not angry at anyone. I'm angry at the government. I'm not angry immigrants want to come here."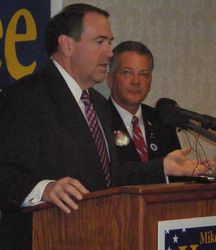 Gilchrist, whose Minuteman Project split from Chris Simcox's Minuteman Civil Defense Corps back in 2005, has been struggling since his own board ousted him over alleged financial mismanagement, and the extent to which he remains an influence over the fractious Minuteman phenomenon is unclear.
So while Gilchrist may give Huckabee some kind of anti-immigrant credibility among the right-wing base, it may be that Huckabee is giving a much greater boost to Gilchrist. Huckabee, whose "nice guy" persona contrasts starkly with the armed-and-dangerous image of the Minutemen, even went out of his way to apologize for perceiving the vigilantes as fringe activists:
"There are times when I, probably in the early days of the Minuteman, I thought, 'What are these guys doing . . . what are they about?' " he told Gilchrist during their press conference in Iowa. "I confess, I owe you an apology for even questioning why in the world you guys would do it. As all of us have seen, the federal government has failed to secure the borders — they failed to bring a policy that is good for everybody involved."
With such generous pandering in play in this election cycle, anti-immigrant activists and groups are likely to stick around. Indeed, the Federation for American Immigration Reform (like the Center for Immigration Studies, part of John Tanton's network of anti-immigrant "grassroots" groups) is planning to bring right-wing radio talkers to Iowa just days before the caucuses, as the group releases a report purporting to show "rapidly escalating costs resulting from illegal immigration" in the overwhelmingly white state.
Handily, the Southern Poverty Law Center has just published an article on FAIR's connections to racist hate groups. Now, if we could only get it into the hands of Republican presidential candidates …
(Image from Noam Scheiber at The New Republic.)