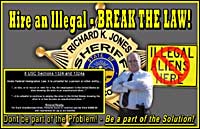 Butler County, Ohio Sheriff Richard K. Jones has been running his own personal campaign against undocumented immigrants. He's taken out newspaper ads, he put up six billboards in the area with his personage warning "Hire an Illegal—Break the Law!" and he even started his own blog on the web site of the sheriff's office to organize a boycott of businesses that hire undocumented immigrants.
And a few weeks ago, his office arrested 18 Hispanic construction workers without charge, only to release them when federal immigration officials declined to investigate.
While Jones does not have the authority to enforce federal immigration violations – he would prefer that they be felonies – he has created a sense of fear in the Hispanic community of Butler County, which is part of House Majority Leader John Boehner (R)'s congressional district. As NPR reports:
The police cars that cruise by Little Mexico aren't from Sheriff Jones' office but from the city of Hamilton, whose police force is trying to improve relations with the Hispanic community. But that effort seems undermined by Jones' campaign against illegal immigrants.

Lourdes de Leon, co-owner of Taqueria Mercado, says friendly police officers used to be regulars at her Mexican restaurant, in part to make the community more comfortable with them. But she recently asked them to stop coming. Their presence was scaring customers away.

Today, if a crime happened, de Leon is sure most Hispanics would be too scared to call the police. Even without officers around, she points to plenty of empty tables. Over the past month or so, business is down by more than one-third, she says.

De Leon is a U.S. citizen, but she understands her customers' fears.

"Me myself, you know, I'm afraid," de Leon says. She worries the sheriff might target her business "even if I'm doing nothing wrong."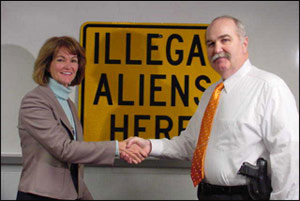 Sheriff Jones receiving an "American Patriot" award from Bay Buchanan, chair of Rep. Tom Tancredo's anti-immigrant Team America PAC.