Fresh from Election Disappointment, Right Eyes Christmas
Submitted by
Anonymous on Wednesday, 11/15/2006 4:57 pm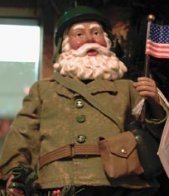 Last week, Vision America's Rick Scarborough agonized over the defeat of Republican congressional candidates as well as ballot issues he campaigned hard on – the Missouri stem-cell research amendment, which passed, and the South Dakota abortion ban, which failed. "Values Voters in America have been betrayed and we stand on the precipice of grave judgment if America does not repent," he wrote, adding that "death prevails in America. … AND THE CHURCH STOOD BY AND LET IT HAPPEN!!!!"
But Scarborough now appears to be looking to move right along to something else – to what the Right has been calling the "War on Christmas." He writes in an e-mail,
Help Protect Christmas In America!

For decades now, public displays celebrating Christmas have been assaulted by the ACLU and activist judges.

Today, we are asking you to make your voice heard and sign our petition to President George W. Bush asking him to issue an executive order prohibiting the federal enforcement of any court decisions that seek to remove Christ from Christmas.
Recently, Scarborough confessed to exaggerating his "War on Christians" in order to "get the press exercised." What are the odds he's thinking up more "hyperbole" for this season's "War on Christmas" campaign?