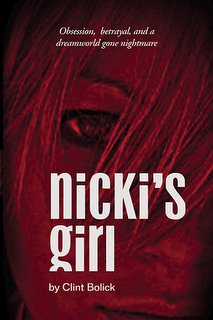 Months ago, voucher warrior Clint Bolick announced he would leave his position as head of the Alliance for School Choice. It may have been more of a career change than we realized — writing romance novels. Bolick has decided to release his first self-proclaimed work of fiction, Nicki's Girl, just in time for the holiday shopping season: One on-line book seller offers the following description:
When talented young architect Kevin Gibbons meets Nicole Petri, he is quickly swept away. Nicki's otherworldly beauty, sweet disposition, and ardent lovemaking seem almost too good to be true. Even after she reveals alarming personality traits, Kevin marries her.

Eventually Nicki bears the daughter she desperately desires. But despite the fact that Alexandria is the spitting image of her mother, her arrival does little to purge Nicki's demons. Alex's behavior in turn veers between angelic and terrifying, forcing Kevin to struggle furiously to save both his little girl's life and his own sanity.
Along with this brief synopsis, one can find several stellar reviews. Alliance for School Choice communications director calls her boss's book a "page turner." Libertarian lawyer and Goldwater Institute staffer Jordan K. Rose says Bolick's "foray into fiction" is a "must read." And "Diane Bolick" objectively opines that she "can't put it down."
The voucher movement has suffered a number of setbacks recently, but it remains to be seen if the public will appreciate Bolick's fiction any more than they support school vouchers.