Rick Scarborough has begun his "70 Weeks to Save America" tour of political rallies at churches, with the goal of signing up "100,000 Values Voters, 10,000 key leaders, 5,000 Patriot Pastors and 5,000 women" to "vote their Christian values on election day 2008."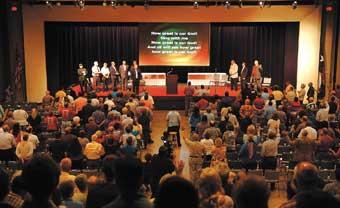 "Turnout was slim" at the kick-off event last Thursday in Lufkin, Texas, according to the local newspaper, but the speakers did what they could to make the evening memorable. Alan Keyes, said to be "considering another run for the White House," told the crowd that there can be no separation of church and state, and noted that "Barack Obama is an evil man." (Obama defeated Keyes for Senate in 2004 by 70 to 27 percent.) Keyes added, "The Bible says God hates evil-doers. Christians should hate what God hates too."
Introducing Rep. Louie Gohmert, local activist Bob Flournoy praised the congressman's efforts to oppose hate crimes protections for gays, and complained about the "liberal God-haters who can't stand him." Although the hate crimes bill applies only to violent crimes, Gohmert claimed, "They will come after your sermon notes and your congregation and accuse you of hate speech crimes, just for quoting your Bible in church."
And Scarborough warned that terrorist attacks were a result of abortion and other policies in America:
"We've allowed terror to strike in the wombs of mothers," he said. "…Could it not be that our judgement has been seeded by our own sin?"

God would reverse the terror if we would reverse our sin, Scarborough said.
Texas Baptist pastor Don Wilkey, Jr. reports on the event for Talk2Action.org:
 At the meeting Scarborough introduced himself and warned that the threat of Islamic terrorists should be a wake up call to America to get behind his movement.  He later implied that the terrorist threat was God's judgment on America for its pro-abortion stance.  

Rick cautioned the crowd to be on guard because the "other side" was building an organization to shut them down.  As an example of how bad it has gotten he claimed the Supreme Court said you cannot pray or read the Bible in schools. Opponents like the Southern Poverty Law Center were identified as the enemy.  One continual theme was that great patriots like Judge Roy Moore, Tom Delay and the Navy chaplain present suffered from religious persecution in America.

Hate crime legislation was a topic of a great deal of emphasis.  We were told the legislation would mean ministers who took a position against the homosexual lifestyle could be prosecuted if this bill passed.
According to Wilkey, Scarborough claimed his outfit was struggling financially since the 2006 elections, when Democrats took control of Congress:
These things took place because good people stayed home and didn't vote.  Rick told the crowd he was non-partisan but the GOP aligned with their values. …

[Scarborough] came up with the revelation for his 70 week Crusade because, "I am not content to sit back and watch this nation be destroyed."  Scarborough said the purpose for his Crusades was to take back what was stolen. He promised to deliver votes and to influence candidates with our values.  This was only if we would go back and organize his army.  In his brochure he told pastors they could give their church roles out to political campaign leaders.
(Photo from Lufkin Daily News.)