Televangelist Rod Parsley dedicated yesterday's episode of "Breakthrough" to the issue of so-called "partial-birth" abortion, "perhaps the most heinous, cruel, and merciless procedure ever devised by man." He called on his viewers to help him influence an upcoming Supreme Court case challenging the federal "Partial Birth Abortion Ban," signed into law in 2003, by contributing to a "staggering display of solidarity from all across our nation that will let them know the will of the people":
You and I have one last chance to save the innocent human lives of the almost born. But we must act now. So please, go to your phone or go online and add your name to our petition addressed to each Supreme Court justice asking them to choose life and not death for the future generation. But we only have a very, very short time to get these petitions to each of the nine Supreme Court justices asking them to simply do what is constitutional: uphold the federal ban on Partial Birth abortion.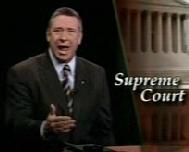 Watch the video: Broadband or Dial-Up.
Parsley also singled out Planned Parenthood as a "shrine" for the most "ardent, passionate advocates for killing unborn babies," who he said would stop at nothing to keep "profitably operating on a daily basis."