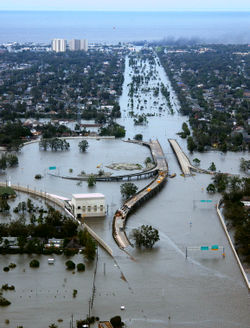 Two years ago this week, Hurricane Katrina devastated New Orleans and other stretches of the Gulf Coast. At the time, the response by many on the Right was to blame the victims and/or social-service programs, and to take advantage of the "golden opportunity" to advance a far-right economic agenda. Remember Pat Buchanan, who criticized the "failure" of the "character and conduct" of the population of New Orleans, who "waited for the government to come save them" and "screamed into the cameras for help"? Then-Sen. Rick Santorum (R-PA) called for "tougher penalties" for those who were stranded when the storm hit and the city was flooded. Bill O'Reilly saw video footage of the tragedy as an ideal object lesson for young people: "If you refuse to learn, if you refuse to work hard, if you become addicted, if you live a gangsta-life, you will be poor and powerless just like many of those in New Orleans." (Watch the video.)
A few on the Religious Right joined in: Steve Lefemine of Columbia Christians for Life and Flip Benham of Operation Save America declared Katrina and Hurricane Rita acts of God in response to abortion in America. "God has more disaster than our federal government has relief!" said Benham. Franklin Graham, son of the famous evangelist, said in a visit to Jerry Falwell's Liberty University, "There's been satanic worship. There's been sexual perversion. God is going to use that storm to bring revival. God has a plan. God has a purpose." (Pat Robertson, whose organization was promoted by FEMA as a Katrina relief charity, merely stated that Katrina and the Asian tsunami were the "birth pangs of a new order." Watch the video.)
Meanwhile, many right-wing activists sprang at the chance to implement long-standing policy aims like private-school vouchers and capital gains tax cuts (according to Jack Kemp, capital gains is "not a tax on the rich, [but] a tax on the poor who want to get rich"). A number of Republicans in the House organized a program code-named "Operation Offset," using Katrina as an excuse to revive efforts to cut funding for bugbears like PBS, Amtrak, and the earned-income tax credit.
Most of these activists and commentators have been silent on Katrina's two-year anniversary, but a few have marked the occasion. Fred Smith, head of the Competitive Enterprise Institute, complained this week about the government "dump[ing] billions" into a "regulated" Louisiana economy, and called for more "self-help" on the part of residents. He echoed his own comments from October 2005, when he said the Bush Administration's response to Katrina proved his point that, "You can have good government, or you can have Big Government, but you can't have good Big Government."
John Hawkins wrote that he was tired of the "pity party" and said victims should "get over it":
[W]e're all supposed to eternally sit around and weep tiny little tears of sadness for the people who really took it on the chin in a hurricane because they chose to live in a city shaped like a soup bowl on the coast. Let me tell all the citizens of New Orleans something that should have been told to them 18 months ago: it's time to stop playing the sympathy card and get over it.
And Joseph Farah, publisher of WorldNetDaily, complained about any effort toward "restoring New Orleans to its former decadent glory. "
The politicians forcibly take the money from you, bestow it upon a rebuilding effort that should never take place and then slap themselves on the back for all their hard work and sacrifice. …

Somebody's got to say it: New Orleans, the party's over!
(Photo from Petty Officer 2nd Class Kyle Niemi, U.S. Coast Guard.)