After the Walt Disney Company announced that it would sell its theme-wedding package to same-sex couples, the Religious Right reacted predictably. "America continues to slide toward the abyss. God help us!" cried Vision America head Rick Scarborough at the threat of Mickey Mouse commitment ceremonies.
At its Orlando resort, the Walt Disney Company has decided to open up its "Fairy Tale Weddings" (I didn't make this up!) to same-sex couples, notwithstanding that gays can't legally marry in Florida – or anywhere else outside of Massachusetts. …

Apparently, Disney (which also has "Gay Days") doesn't care if it offends the deeply held values of its customers. Pandering to a radical fringe group seems to be more important.
"We are in the hospitality business and our parks and resorts are open to everyone," said a Disney spokesman. The president of the American Family Association scoffed at the idea of sharing an 85-acre theme park with committed gay couples:
Such inclusiveness, says AFA president Tim Wildmon, is why families must be warned. "You could be innocently taking your family to Disney World or Disneyland, and you're walking down the middle of the park and here's comes this parade of wedding attendees [that includes] two men who've just gotten 'married' at Disney World," he says. "That's something to take into consideration before you go and patronize the Walt Disney Company this summer."
Wildmon's last statement can be taken as a threat – AFA initiated a boycott against Disney in 1996, which was joined by the Southern Baptist Convention and which lasted nominally until 2005. Similarly, Scarborough suggested restarting the boycott, writing "Perhaps it's time to reconsider that decision" to call it off.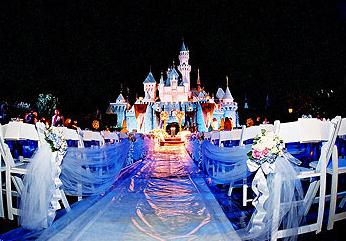 The Sleeping Beauty Castle at Disneyland.