Televangelist and "Patriot Pastor" leader Rod Parsley announced that he will be taking part in an effort to "take America back for God through the power of prayer" during the 400th anniversary celebration of the founding of the Virginia colony at Jamestown. The "Consecration Conference" at "Assembly 2007" will also feature several other familiar religious-right stars, including Pat Robertson, Bishop Wellington Boone, Harry Jackson, and John Hagee. If you can't make it to Virginia Beach next month, don't worry – you can still take part in this effort to declare America a Christian nation by purchasing a "One Nation Under God" commemorative cross.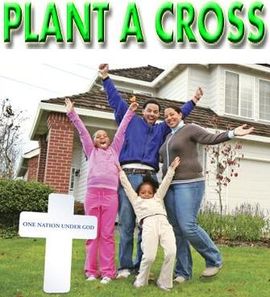 " Imagine thousands praying simultaneously from coast to coast publicly delaring that America belongs to Jesus Christ! Join the national movement on DEDICATION SUNDAY and renew the covenant with God and America in the prayer of rededication!"
A promotional video for the event makes this more explicit:
In April of 1607, the Jamestown colony landed in Virginia Beach and planted a cross, birthing a new nation dedicated to God. Now, 400 years later, you can be part of history by uniting with Christians at the Assembly 2007 to rededicate this country to Jesus Christ.
Of course, the birth of the new nation didn't exactly occur until late in the next century – by which time the erstwhile colonists had developed ideas like the First Amendment and the No Religious Test clause.