Yesterday, Massachusetts Gov. Mitt Romney (R) appeared on "The O'Reilly Factor" and bonded with host Bill O'Reilly about building a wall on the U.S.-Mexico border.
O'REILLY: Are you going to do it? If you're the next president we're gonna …

ROMNEY: This Congress is going to do it, too. We're going to build a wall. But that's not enough.

O'REILLY: The Mitt Romney memorial wall.

ROMNEY: It may be a fence. I will call it the Bill O'Reilly special.

O'REILLY: Then nobody will come.

ROMNEY: That's right.

O'REILLY: Nobody will come. They'll go, O'Reilly Wall, ain't coming.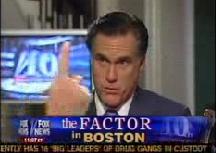 Watch the video: Broadband or Dial-Up.
"We like your immigration stance. We think you are very good on that. Governor, you are welcome any time. Thanks for coming in," added O'Reilly. Romney, a potential 2008 presidential candidate, had declared September 19 "Fox News Channel Day."