As in 2000, a belated Civil War battle is being fought in this year's Republican primary in South Carolina. But if advocates of flying the Confederate battle flag over the state capitol hope to convince people it's unrelated to racism, they could hardly have a worse spokesman than Ron Wilson.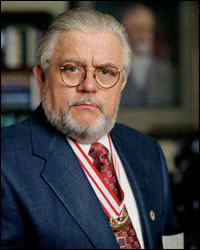 Wilson is the man behind the eloquently-named Americans for the Preservation of American Culture, which is running radio ads lambasting John McCain and Mitt Romney for their stances on the flag issue while praising Mike Huckabee. Huckabee—who recently expressed his enthusiasm for amending the U.S. Constitution to align with "God's standards"—said this week that it was a states' rights matter:
"In fact, if somebody came to Arkansas and told us what to do with our flag, we'd tell 'em what to do with the pole, that's what we'd do," Huckabee said.
According to Wilson, "This is close enough now that this issue is probably going to determine whether McCain wins or Huckabee." Huckabee may appreciate the attack ads on his behalf, but he might want to reconsider.
From the Southern Poverty Law Center:
Wilson is a former member of the League of the South and the Council of Conservative Citizens, both hate groups. His education expertise is limited to the business he ran out of his home selling textbooks to home-schoolers. One of these, Barbarians Inside the Gates, theorized that Jews are working towards world domination — and was specially touted by Wilson's Web site, which insisted, "You MUST READ THIS BOOK."

In his role heading the 32,000-member SCV [Sons of Confederate Veterans], Wilson was part of a takeover attempt by extremists, and led efforts to purge more than 300 members for publicly condemning racism in the SCV.
The SPLC reported in 2002 on the extremist takeover of the Sons of Confederate Veterans, as members hoping "to take the neo-Nazis, the white supremacists, and the skinheads and show them to the door" managed to defeat one white supremacist candidate for leadership in a raucous vote, only to have his close ally, Wilson, elected as a "stealth candidate."