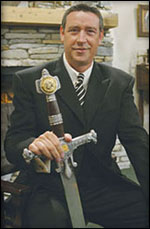 "A spiritual invasion is taking place!" shouted Rod Parsley at the "War on Christians" conference in 2006. "… Man your battle stations! Ready your weapons! Lock and load!" Parsley, an Ohio megachurch pastor and televangelist, promised to build an army of "Patriot Pastors" to march to the polls, an even bolder political machine than the one he led in 2004 that helped pass an anti-gay amendment in the state and nudge George W. Bush to reelection. Parsley's 2006 candidate, Ken Blackwell, ultimately lost the governor's race, but the televangelist remains an outsized political force, and his "Patriot Pastors" machine is still a model for church-based electoral organizing—as demonstrated by Mike Huckabee's surprise win in Iowa.
Thus far, Parsley has kept his distance from the presidential race, while continuing to use his TV show to oppose abortion and hate-crimes protections. But now he's jumped in to help John McCain lock up the Republican nomination. From the Columbus Dispatch:
McCain campaigned yesterday in Cincinnati, where he appeared with the Rev. Rod Parsley of World Harvest Church of Columbus. McCain called Parsley a "spiritual guide," while Parsley later labeled McCain a "strong, true, consistent conservative." …

Parsley shared the stage with McCain during a rally at Hamilton County Memorial Hall in Cincinnati but didn't speak.

In a later interview, Parsley said he supports McCain because the senator will be tough on national security and "protect the unborn."

The megachurch pastor, criticized in the past for mixing religion and politics, acknowledged that McCain isn't the ideal candidate for evangelical Christians, who overwhelmingly backed President Bush in 2004.

"Yet at the same time, when you put John McCain up against Hillary Clinton or Barack Obama, the ideological and philosophical differences are overwhelming," Parsley said.
While the results of next Tuesday's GOP primary vote in Ohio are all but certain, Parsley's intervention suggests that he may deploy his "Patriot Pastor" machine on behalf of McCain ahead of November, when the state is likely to be a closely-fought "battleground" yet again.
Recent polling suggests that no matter how much time McCain has spent recently pandering to far-right activists, he still retains the positive image of a political "maverick." That air of bipartisanship is difficult to reconcile with McCain's decision to campaign side-by-side with Parsley, a figure who has taken partisanship to apocalyptic levels, translating the Republican-Democrat divide into spiritual warfare.
(AP photo of McCain and Parsley.)