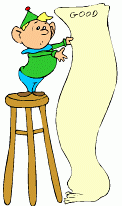 The "War on Christmas" season started early this year – way back in June. While it hasn't gotten too much traction yet – apparently people have other things to do – now Jerry Falwell is joining the fight against "anti-Christmas organizations" like the ACLU that want to "steal Christmas."
In his "Falwell Confidential" e-mail, the Moral Majority co-founder promotes the "Friend or Foe Campaign" run by his affiliated litigation group, Liberty Counsel. Falwell and Liberty Counsel hope to recreate the magic of last year's holiday season by instigating boycotts of "retailers who ban[] expressions of Christmas" (by saying "Happy Holidays") and threatening to sue schools or government offices that don't adhere to the "Merry Christmas"-only lexicon. From the e-mail:
Anita Staver, president of Liberty Counsel, said, "Christmas is constitutional. We cannot allow our religious liberty and heritage to be swept from the public square."

When enough people learn the truth — that we can celebrate the religious aspects of Christmas — the ACLU and similar "Scrooges" and "grinches" will lose their power to steal Christmas.
Do civil liberties groups have the "power to steal Christmas"? As he wrote last year, Falwell believes there is some kind of conspiracy on the part of "small minority of our fellow citizens" to "obliterate Christmas," and the "Friend or Foe Campaign" was used to collect supposed evidence of the "War on Christmas" – even when the cases they found turned out to be trumped-up or bogus (see Right Wing Outrage for 12/20/05 for video of Falwell hyping a bogus story). Still, the efforts of Falwell and other Christmas warriors ensured that there was no time of year we were denied the political hysteria of the far Right.