Campaigning for president as "the full-scale conservative," Sen. Sam Brownback (R-Kansas) has won the hearts of many right-wing activists for joining in the calls warning of a so-called "War on Christmas" and blocking a judicial nominee who once attended a lesbian commitment ceremony, but his candidacy has so far failed to establish viability. "Brownback has to prove he can win," as Richard Land of the Southern Baptist Convention put it. Still, the senator is steadily expanding his base, as he demonstrated during Monday's anti-abortion protests in Washington.
Brownback wrote an op-ed in support of the protests in The Washington Times, and he spoke at several events during the day, culminating in a "Brownback for President" reception. Washington Post's Dana Milbank reports:
The Rev. Frank Pavone of Priests for Life gave the opening prayer: "We pray today particularly for a man whom we love and whom we admire, whom we look to and have looked to for leadership and have not been disappointed. We pray today for Senator Brownback and his family."

Two hundred march participants chanted: "Brownback! Brownback!"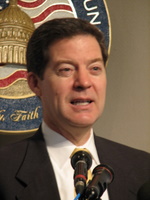 Brownback also spoke at the Family Research Council's Blogs4Life conference (covered by ProLifeBlogs, Townhall, and Human Events), where he predicted that "Roe v. Wade is going to be overturned" within a few years, as Milbank reported.
He announced his introduction of the "Unborn Pain Awareness Act" and vowed to protect all "children of a living God." Asking why disabled Americans are protected but not fetuses with abnormalities, he demanded: "What's the difference — location?" For emphasis, he introduced a 4-year-old girl with Down syndrome. He urged the listeners to speak to abortion-rights supporters with "truth encased in love."
This is not the first time Brownback has used children as stage props. This past summer, the senator argued against embryonic stem-cell research by bringing out a 7-year-old girl, who had drawn a picture of herself as an embryo saying, "Are you going to kill me?" This particular rhetorical technique was previously used by former Sen. Rick Santorum (R-Pennsylvania), who brought a 4-year-old to the Senate chamber while arguing for the "Partial-Birth Abortion Ban Act." ""What they wanted to do was kill this baby by stabbing her in the base of the skull and suctioning her brains out," said Santorum, pointing to the girl in the audience.
Santorum's extreme politics endeared him to the Right – not too long ago, he was the one frequently mentioned as a potential presidential candidate – but it cost him his Senate seat in November's election. Brownback is hoping to find a growing Right Wing in Iowa that could give him the edge in the GOP caucus, but first he has to appeal to more moderate Republican voters, and convince them that he won't meet Santorum's fate. Otherwise, the difference will be location – the chasm between warm reception at a far-Right blog panel and disappointment at a real-life voting booth.
(Photo from ProLifeBlogs.com.)