In a letter to the editor of the Boston Herald, Rev. Stephen R. Ayres of Old North Church in Boston calls out the Family Research Council for using an iconic image of two lanterns in its church steeple – made famous by "Paul Revere's Ride" – on the web page for its upcoming "Liberty Sunday" simulcast.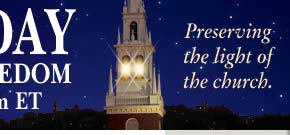 From FRC's web page.
Modeled after "Justice Sunday," a series of televised church rallies FRC put together with leading religious-right activists and prominent Republicans in support of Bush's extreme judicial nominees, "Liberty Sunday" is an attempt to redefine the anti-gay movement as defenders of religious freedom, just a few weeks before the midterm elections.
Rev. Ayres notes that the church, a "symbol of freedom for all Americans," is not partisan and does not support the premise of "Liberty Sunday" – i.e., that the "homosexual agenda" is putting "religious freedom on a course of extinction."
Rev. Ayres' letter:
I was profoundly uncomfortable to see Old North's steeple used in promotional material for an event hosted by The Family Research Council that may inadvertently suggest we support it ("Hub anti-gay marriage event to feature gov's wife in national broadcast," Oct. 11). The Family Research Council prominently features an online image of two lanterns shining from Old North's steeple.

Old North is in no way affiliated with Family Research Council and does not support its stance on many issues, including the ones to be discussed at the forum. Old North is an active, Episcopal church whose members represent a diversity of opinion as we try faithfully to discern God's will in these matters.

The Old North Church is a symbol of freedom for all Americans. The first sermon preached at Old North in 1723 called us to be "a house of prayer for all people." In fulfillment of that charge, Old North strives to be a "big tent" parish, open to all regardless of race, gender, orientation or political persuasion. We do not affiliate with partisan organizations.

The two lanterns that hung in the steeple on April 18, 1775, became famous on the eve of the Civil War, when in 1861, Henry Wadsworth Longfellow published "Paul Revere's Ride." Interestingly, Longfellow was an advocate for liberty for a disenfranchised and enslaved minority. In this spirit, Old North continues to support civil liberties for all.