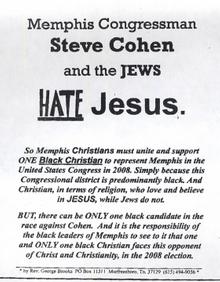 Believe it or not, somebody is taking credit for the above flier, which urges "Memphis Christians" to "unite and support ONE Black Christian" against Rep. Steve Cohen because "Steve Cohen and the Jews HATE Jesus." Rev. George Brooks of Murfreesboro, Tennessee put his name and phone number at the bottom, and told the Commercial Appeal newspaper that he did it because the 9th congressional district "about 90-something percent black" (actually more like 60 percent, but that's really beside the point) and therefore ought to have a black representative. Cohen was elected in 2006 when Rep. Harold Ford Jr. left his seat to run for the U.S. Senate.
Brooks's message painting Cohen as an "opponent of Christ and Christianity" because of his religion is stunningly and appallingly over-the-top bigotry.  But it's not the first time that Cohen has been the target of religion-tinged attacks.
Last August, at a meeting of the Memphis Baptist Ministerial Association, members of the clergy attacked Rep. Cohen for his support of federal legislation to extend protections against violent hate crimes—already in place for crimes motivated by racial hatred—to sexual orientation. These ministers borrowed a page from the Religious Right, falsely claiming that the hate crimes bill would affect religious speech. "If this becomes law, then the gay advocates will start suing preachers for preaching what they (gays) see as hate," said Apostle Alton R. Williams—in spite of the fact that the law includes explicit protections for the First Amendment. For some of the ministers, the bogus religious liberty charge may just have been a cover for the same complaint motivating Rev. Brooks. "He's not black and he can't represent me, that's just the bottom line," said Rev. Robert Poindexter of Mt. Moriah Baptist Church at the August meeting.
The Religious Right has long used anti-gay sentiment as the centerpiece of its outreach to the black church – Bishop Harry Jackson led an anti-hate crimes press conference at the most recent "Values Voter Summit" – and right-wing leaders viewed the Memphis ministers' embrace of anti-gay politics last summer as a victory. The ministers received praise from the Traditional Values Coalition, and Tony Perkins of the Family Research Council—who is writing a book with Jackson on right-wing outreach to black churches—claimed the bill was "uniting Christian pastors across racial and denominational lines all across America." Gary Bauer cited the ministers' meeting as an inspiring moment, building on the federal anti-gay marriage amendment, "when conservative pro-family leaders stood shoulder-to-shoulder with black pastors in defense of faith and family."
While Harry Jackson and the Memphis ministers have apparently signed on to such an alliance, national leaders have rejected the claim that civil rights protections for gays and lesbians must come at the expense of African Americans. The NAACP, African American Ministers in Action, and the Congressional Black Caucus all support expanding hate crimes protections.