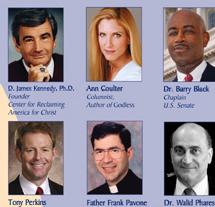 Senate Chaplain Barry Black has cancelled his scheduled appearance at a right-wing conference hosted by televangelist D. James Kennedy's Center for Reclaiming America for Christ, the AP reports, "after he was pictured with columnist Ann Coulter and other prominent conservatives in a brochure promoting the event."
Black told Senate Majority Leader Harry Reid (D-Nev.) that he wouldn't be addressing next month's Reclaiming America for Christ Conference because his appearance wouldn't uphold the Senate chaplain's "historic tradition of being nonpolitical, nonpartisan, nonsectarian," a spokeswoman for the chaplain said Thursday.

Spokeswoman Meg Saunders said Black, a Seventh-day Adventist and a former Navy chaplain, had received "a very generic invitation" in fall 2005 to speak at the March conference and had agreed because there was room on his schedule.

After learning more about the other speakers and the event's featured topics, Black became "concerned" and canceled his appearance, Saunders said. "He felt the information had been incomplete," she said.
Over the last three decades, D. James Kennedy has established himself as one of the most powerful religious-right leaders in the country – called an "ivy-league Jerry Falwell." Kennedy's Center for Reclaiming America for Christ is dedicated to mobilizing its supporters against abortion, gays, and evolution, and his Center for Christian Statesmanship is dedicated to honoring almost exclusively Republican politicians who take up the religious-right standard in office. His 2007 conference will reflect those missions:
Reclaiming America for Christ 2007 is coming, and "evil" is counting on you.

That's right. The only thing evil requires for its triumph is for Christians to say and do nothing.
According to the brochure, attendees will receive "Power packed training sessions taught by 'culture war' veterans" on "How to recruit and mobilize your pastor and church" to combat abortion, homosexuality, and "Darwin's deadly legacy."
And although the conference, in Fort Lauderdale, is at the same time as the much larger Conservative Political Action Conference (CPAC) in Washington, a number of prominent right-wing speakers will make the trip down, including Coulter, Phyllis Schlafly, Tony Perkins of the Family Research Council, Frank Pavone of Priest for Life, and Richard Land of the Southern Baptist Convention. (Schlafly and Coulter are scheduled for both conferences.)
Although Center for Reclaiming America Executive Director Gary Cass claims "It's not political," his organization's history and the choice of speakers makes that assertion pretty unconvincing.