While efforts by the Right to build a religious coalition on immigration never panned out, anti-immigrant activists in California have been steadily building their own version of a relationship with the religious community. Activists with the San Diego Minuteman group spent their summer staging over-the-top protests at an area Catholic church accused of offering breakfast to day-laborers. And now, in Simi Valley, activists protested another church, this time for sheltering an undocumented mother and her U.S.-born son, in a reenactment of Elvira Arellano's stand-off with authorities last year.
Activists with Save Our State reportedly planned on making a "citizen's arrest" of the Simi Valley mother, reports the Ventura County Star. "I'm here because I'm for the movement for the illegals to go home," explained one protester. The protest apparently became violent, as one anti-immigrant protester allegedly pepper-sprayed a pro-immigrant counter-protester, and several neo-Nazis showed up to hold their own mini-rally. The group "Mothers Against Illegal Aliens" also apparently made an appearance.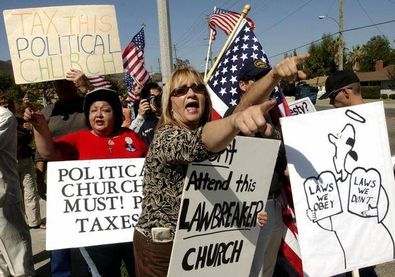 (Photo: Ventura County Star.)
But the confrontation took its strangest twist after the protest. The city of Simi Valley sent a bill for almost $40,000 to the United Church of Christ to cover increased police presence. Although the church did not plan the protest—it was organized by Save Our State, a group that inspired cities like Hazleton, Pennsylvania to pass their own anti-immigrant ordinances to fend off a "Third World cesspool"—and although the church did not call for any police presence, Simi Valley Mayor Paul Miller blames the church for "harboring an illegal immigrant" and "any potential violence as a result."
Simi Valley apparently want to send a message: that they are on the side of Save Our State.
The City Council made it clear it doesn't want Liliana in a Simi Valley church.

"This city is not going to be known as sanctuary city,'" Miller said.