A Not-So-Hidden Agenda
Submitted by
Kyle Mantyla on Thursday, 8/31/2006 3:10 pm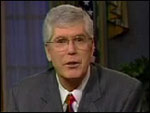 Mathew Staver of the
Liberty Counsel
, an organization that is
directly tied
to Jerry Falwell's Liberty University, used his weekly television broadcast to urge public school teachers to serve as "domestic missionaries" and promote Christianity in class under the guise of instruction. [Watch the Video:
Broadband
or
Dial-Up
] The best way to accomplish this, Staver said, was for teachers to frame classroom discussions in a manner that allow them to examine the "Judeo-Christian influences on the subject matter" – whatever the subject may be
"[I]n literature class, art class, music class, whatever course it is, in my opinion, that course cannot be adequately taught or overviewed without talking about religion, in particular Judeo-Christian influences on the subject matter … Whether its in math class, science class, music class, in fact you can't even study music without studying Christian music … so whatever topic it is, you can talk about this. Give the students a good, grounded education and get them interested in religious aspects, whether it's intelligent design or whether its literature."
Staver also noted that, once the class day is over, teachers have the opportunity to take their guerilla proselytizing to the next level because they can "put away all of the secular textbooks and they are totally unshackled at this point and now they can not just talk about religion but they can evangelize as well." It is a lucky coincidence that Liberty Counsel's primary mission is filing lawsuits in defense of
students
and
teachers
who claim to have had their religious liberties violated, because any teacher who follows his recommendations could very well end up needing his legal assistance. Read more on Staver's
outrageous
suggestions.