Operation Save America Targets Mississippi's Only Clinic
Submitted by
Anonymous on Monday, 7/17/2006 5:11 pm
The Associated Press reports on dueling rallies in Jackson, Mississippi as the National Organization of Women and others sought to counter the efforts of Rev. Flip Benham's Operation Save America, which "is holding rallies across Jackson in an effort to force the closure of Mississippi's only abortion clinic."
Flip Benham, Operation Save America director, said his group will remain in Mississippi until the Jackson Women's Health Organization abortion clinic shuts its doors for good.

"I'm here to tell the truth," Benham said to an abortion rights advocate who questioned why he was at the rally. "We were out at the clinic earlier today and we are out here to bring the gospel. Of course, when you do that — bring the real gospel — all hell is going to break loose and all of heaven is going to come down."

He said there were eight abortion clinics in Mississippi in 1993, the last time his group came to the state, "and now you have only one abortion mill and what you are seeing is that all eyes are turned to Mississippi."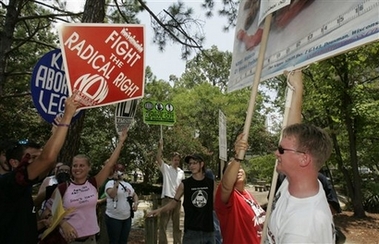 (AP Photo)
Operation Save America, formerly known as Operation Rescue, had a reputation for militancy under the leadership of Randall Terry, as when OR protestors stormed a police barricade in front of a clinic in Baton Rouge, Louisiana in 1992, as Max Blumenthal reported. In Mississippi, the tactic appears to be increasing regulation targeted at the last clinic in the state. Curiously, however, the AP reported of Saturday's protests in Jackson,
A bomb threat halted the rally, leading to angry exchanges between the groups. The Jackson Police Department cleared the park and blew up a package found by a bomb squad. Officers would not say what the package contained.